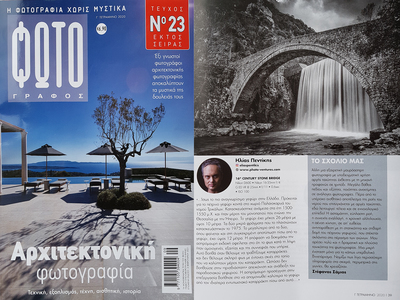 October 13th, 2020 - Kavala, Greece

Award-winning landscape, cityscape, and portrait photographer Elias Pentikis was published in the greek photography magazine "PHOTOGRAPHOS" (meaning "photographer" in English), in the special theme-related issue No. 23 on page 39. The specific issue is dedicated to "Architecture Photography" and the image of Elias Pentikis that was chosen by the editors depicts a 16th century-old stone bridge.

This photo has also won an honorable mention in the Monochrome Awards 2016, honorable mention in the International Photography Awards 2018, a gold medal in Moscow's International Photography Awards 2017. Also in Moscow's International Photography Awards got the second place in the general category of Architecture photography for non-professional photographers and exhibited in Moscow from 22 July 2017 until the 30th of July and then extended to 6th of August 2017. It has also been presented in Minsk - Belarus, gallery Artel, from 14th...